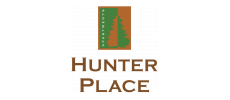 Your Review
Submit a Review

Resident Reviews
|

Recommended: Yes
Thank you for taking time to post this review. We appreciate your feedback and are so pleased to offer you a 5-star living experience. Warmest Regards, Hunter Place
|Recommended: Yes
Overall the apartments are a great place to stay — Is a cozy comfortable apartment
Janae, thank you for reaching out. We are excited to hear that our residents are enjoying our apartments. We want all of our present, past, and future residents to enjoy their time here with us. -Hunter Place Management Team
|Recommended: Yes
Like how I can contact and get a response
Linda, Thank you for your review. We love hearing about our fantastic staff. We want all of our present, past, and future residents to enjoy their time here with us. -Hunter Place Management Team
|Recommended: Yes
Decent place to stay for a bit — Maintenance is pretty good. Although rent is too high for such small compact apartments, also crime rate seems to increase regularly. Other than that, living here is alright.
Thanks for your feedback on our community Angelica. We are happy to know that you have had positive experiences with our Maintenance team. Thank you for being a valued resident!
|Recommended: YesVery nice clean — I would say it's very nice to live here, everybody keeps to themselves, lots kids outside playing, but not an issue. Very nice clean outside
|Recommended: Yes
Great — It's nice and quiet , the lawn is very well taken care and so are the units .
Sabrina Thank you for your review. We are so glad to hear that you are having a great experience and enjoying your home. -Your Hunter Place Management Team.
|Recommended: YesIt's a nice place to stay. — They have a few events in the year so the neighbors get a chance to meet and interact.
|Recommended: Yes
Great place to live — Hunter Place is a great complex to live in.
Thanks for the review Cedric! We are glad that you chose Hunter Place to call home!
|Recommended: Yes
Amazing, Quiet, beautiful community — It's quiet and perfect for someone who works as much as me
It's an honor to have you as one of our valued residents at Hunter Place Apartments. We hope that we continue exceed all your expectations!
|Recommended: YesI love where I live — It's so quiet in the evenings and early mornings which is very important to me because of my work schedule.
|Recommended: YesGood — That it's a gated apartment complex and we feel safe
|Recommended: YesI think staff is friendly as well as maintenance. Place is up kept as well — To apply
|Recommended: YesA nice place to live — It was nice and quiet here most of the time. Sometimes at night there would be loud music but that was very rare and usually is shut off quickly. Parking is okay. It was quite a distance walking from our covered parking to our apartment so it was always a drag when it came to carrying loads of groceries. Some tenants and visitors also park wherever they want. So sometimes your covered parking does get taken. We lived in two different downstairs apartment at this complex. The noise level upstairs at our first one bedroom was minimal sometimes we hear footsteps or the window being opened. The noise level upstairs at our second two bedroom was a lot more. There was a constant stomping across the room. We assume it was a child. But it wasn't too bad. One of the cable outlet didn't work but we only needed one anyways so it wasn't much of a bother to us. The staff was beyond amazing. When Cassie was there she really got on top of everything. I rated a 4 star for staff because the new front desk wasn't too helpful, but I understand she's new and just learning. Jennifer was also super helpful and made the moving out transition go smoothly. Overall, I am glad I was able to call this complex my home and I would recommend this place to everyone.
|Recommended: Yes
Stupendous and amazing, I love it here — It's awesome Quite, clean, it's a great place to live without having to worry about anyone trying to break in or anything.
Thanks Josue! We appreciate the positive feedback, and hope we continue to exceed your expectations!